×
Brian Chan
Ice Fishing Bait
×
Go Fish BC: Ice Fishing on Mamit Lake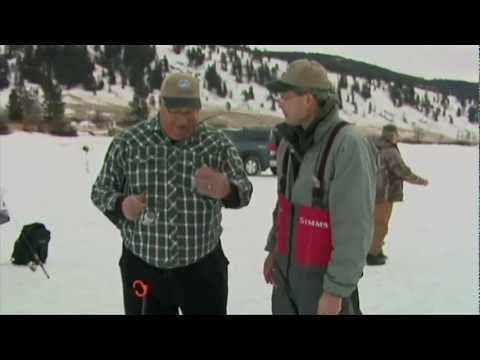 By Brian Chan
Courtesy Freshwater Fisheries Society of BC
Winter has arrived in the interior regions of the province. Diehard open-water anglers have put their boats away for the next four to five months, and are now organizing their ice fishing gear. Like any other form of angling, fishing through the ice can be as sophisticated or as simple as you want it to be. Regardless how serious you are, ice fishing is a fun, family activity that goes well with campfires, hot chocolate, and hot dogs – the perfect accompaniments to exciting fish-catching action.
Getting started comes down to having a hand- or gas-powered ice auger, a short summer spinning rod or ice fishing rod, and a small selection of baits, lures, and ice jigs. Load up a toboggan or ice fishing sled with your gear, and head out onto a frozen lake or pond.
The most popular under-ice fish are rainbow trout, brook trout, and kokanee. An ice auger hole 15 centimetres in diameter is adequate for pulling up the average size of fish you'll encounter in most lakes.
There are basically two styles or techniques employed while ice fishing. Some anglers prefer to still-fish bait (maggots, earthworms, frozen krill, canned white corn, or pieces of cooked shrimp) or synthetic baits (like Berkley Power Bait or Gulp). Place a small sinker or split shot on the line 30 centimetres above a baited hook. Lower the bait through the hole, and suspend it within 60 centimetres of the lake bottom. Place your fishing rod in an ice fishing rod holder. Watch the rod tip for the bite; adding a small fishing bobber can help in detecting the lightest of strikes.
Another popular technique is to jig small lures with bait, or ice jigs tipped with bait. Jigging means slowly moving the rod up-and-down in 15- to 30-centimetre strokes so that the lure and bait flutter enticingly. Typical jigging setups use a hookless Williams Wabler or Gibbs-Delta Croc spoon to which you tie a 30-centimetre leader, and then a bait hook tipped with one or more of the previously mentioned baits.
An effective way to catch kokanee is to jig flashy silver or gold hookless spoons, with a longer 40-centimetre leader ending with a bait hook tipped with maggots or krill. Again, it is the constant, slow up-and-down jigging motion that makes the spoon flash and dart in the water, attracting kokanee to the bait.
Brightly coloured, lead-headed marabou jigs are also very popular for jigging. These jigs (typically fluorescent yellow, chartreuse-green, or white in colour) are tipped with krill or cooked shrimp. The marabou feathers of the jig undulate and pulse when moved up-and-down in the water.
Regardless of the ice fishing technique you use, it is important to be fishing in areas of the lake where the fish are most likely to concentrate. For rainbow and brook trout, the best fishing is often done in water less than five metres deep; in many situations, fishing in depths of three metres or less can be very effective.
Ice fishing for kokanee means targeting these prized landlocked sockeye salmon in much deeper water. Kokanee are a schooling fish, and once you have located a concentration, the fishing can be fast and furious. Kokanee feed on minute zooplankton higher in the water column. A typical kokanee fishing scenario would be finding water anywhere from 10 to 25 metres deep, and fishing suspended baits or jigged lures at depths between five and seven metres.
Bathymetric or contour maps of lakes that you want to fish will greatly assist in determining where to start drilling holes. Many of the most popular stocked lakes have maps available either in fishing guide mapbooks, or by downloading off the Freshwater Fisheries Society of BC website at: www.gofishbc.com.
Take advantage of the knowledge and tackle offered by local sporting goods stores and resorts that cater to ice fishing. These are resources that can tell you where the hotspots are on the lake, and what the best techniques are to catch them. Be sure to check the fishing regulations on your intended ice fishing lake.
Finally, beware of thin ice, and always wear a personal flotation device when ice fishing. A good rule of thumb is that once there are at least 15 centimetres of clear ice on the lake, it will be safe to walk on, and have a fun day standing on the water!
Originally published by Gofishbc.com