×
Picasa 3.0
borrego
Here in Borrego Springs, California, a new age for outdoor hospitality and recreation has begun. The dream of building one of the world's best campgrounds has come true.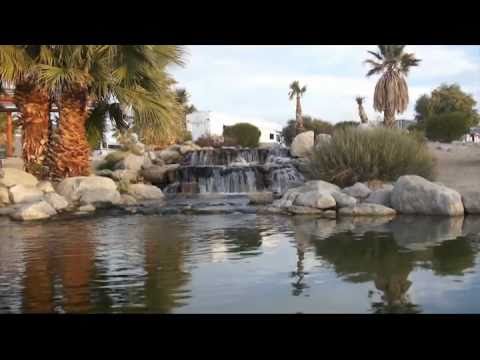 Story: Dan Wright, courtesy of ARVC Voice, Photos: Sharon Wood
The sun has just set.  As you lounge by the campfire and absorb the comforting warmth and hypnotic crackling you cast your contemplative gaze upwards.  What a sight.  The sky here is devoid of light pollution-- the nearest stop light is 50 miles away, and you have all the possible comforts you could want.
Here in Borrego Springs, California, a new age for outdoor hospitality and recreation has begun.  My family's dream of building one of the world's best campgrounds has come true.
Many believe that this quaint and quiet desert village is located at the epicenter of a positive spiritual energy vortex, much like Taos, New Mexico, or Sedona, Arizona. Whether or not you believe in such a thing, there is no denying the revitalizing atmosphere which permeates The Springs at Borrego.
Our resort provides RVers with the utmost experience that only luxury camping, recreation, wellness, and the combination of educational and social opportunities can offer.  As you might expect, our resort offers large RV sites with paved streets and concrete pads and all hookups. But this is The Springs, and we strive every day to provide you with the utmost level of comfort and entertainment .  When you stay with us you will see what we mean;  an array of wellness, educational and social activities abound to provide you with all the necessities to create a rich, full slate of choices for recreation and enrichment.
Our guests can choose from free sessions of water aerobics, yoga, tai chi, qi gong, pilates, tennis, birding and photography.  When you visit, please provide us with suggestions on any additional activities you would like to participate in--we are constantly looking for new ideas within the community.  All of our instructors are professionally trained and accredited in the field in which they teach.
Weekly campfire night is a huge hit with the campers.  We gather at the waterfall ramada and roast hot dogs and s'mores as ducks swim by on the lake at the ninth green.  Spontaneous poetry readings, acoustic jam sessions or singalongs break out without warning.
Children love to watch, feed or fish for the tilapia, bass and catfish that swim in the lake.  When they catch one we are there to help release it back into the water.
Later in the week, our wine-tasting and social hour brings new and returning guests together and allows a chance for our family to meet and greet our guests.
At the golf course, our LPGA pro Brandy Casey creates fun and energy throughout the season.  Her classes, mixers and tournaments create a thriving golf scene at The Springs.  Her high spirits and large heart enrich us all.
Scheduled and informal star parties are held regularly under our clear and dark skies.  We provide an "astronomy park" away from the lights for the stargazers to congregate.  Professional and amateur astronomers are brought in to lead the gatherings.
Many of our guests are pet lovers.  To enhance their experience we created a pet-friendly environment with three dog parks on the property and many pet walking areas throughout.
In keeping with our theme of enhancing wellness, we added a health spa, which offers holistic massage, acupuncture and acupressure.  Our therapists are all highly trained and state licensed.  This amenity is hugely popular with our guests.
To enhance spiritual awareness, we invite Native American leaders to hold medicine wheel ceremonies at the resort for the winter and summer solstices.  These ancient traditional ceremonies respect all belief systems and are intended to reinforce our spiritual connections to Mother Earth and her inhabitants.
We hold monthly fundraising events that give our guests opportunities to benefit charitable causes both local and national.  Often these events include elegant meals and live professional entertainment.  Our guests love to have a great time while raising money for a good cause.
Our programs have reaped some fascinating benefits.  Our repeat campers (85 % of our business) are athletic, sophisticated, accomplished and exceedingly kind in nature.  They bring a wonderful mix of knowledge, spirit and culture to the resort.
Recently, our guests started a weekly "continuing education" series of presentations from active and retired professionals who share their experiences and knowledge of relevant topics.  The guests organize, promote and staff these sessions by themselves.  Management merely provides a room for them to do it.
Not long ago we received this note via email. "We wanted to let you know how much we enjoyed staying at your park for a month. We had only planned to be there for a week, but stayed longer in large part because of the classes offered. The teachers are all excellent and made for a very worthwhile and enjoyable experience."
Our goal is to enhance our business and our guests' experience by creating a healthful and self-empowering environment that fosters wellness, enrichment, education, and a multitude of recreational options.
Oh, and that idea about the vortex of positive energy here in Borrego Springs? If you ask our guests about that, I think a large number of them would say they believe it.