×
San Juan Cruises
×
San Juan Cruises Whale Watching Adventure Cruise
San Juan Cruises - Whale Watching Adventure Cruise including a delicious Northwest King salmon & BBQ chicken lunch and a two hour visit in Friday Harbor.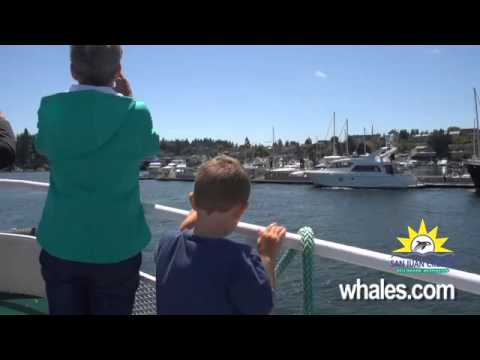 San Juan Cruises
San Juan Cruises starts their new season on May 3rd with a mix of popular tours as well as a brand new cruise to La Conner. The lineup of tours includes whale watching in the San Juan Islands, cracked crab dinner cruises, beer and wine tasting cruises with local breweries and distributors, a Sucia Island picnic cruise, bird watching excursions and a waterfront development tour.
New for 2014 is their La Conner / Deception Pass cruise from Bellingham, which gives people the opportunity to visit the waterfront town of La Conner, cruise the Swinomish Channel and pass through Deception Pass.
The 50-foot M/V Salish Sea departs Bellingham at 10:30 and cruises south to La Conner. Around noon the crew will serve up a complimentary lasagna and Caesar salad lunch. After arrival in La Conner, there will be two hours to explore the historic town, filled with unique shops, artist galleries, bookstores, and microbreweries.
The return cruise goes through Deception Pass and under the Deception Pass Bridge. The bridge, one of the most photographed landmarks in the Northwest, is on the U.S. national register of historic places. Once through the pass the tour will head north via the eastern San Juan Islands before arriving back in Bellingham at 5:30.
More information on all of these tours can be found online: http://www.whales.com/
San Juan Cruises, 355 Harris Avenue #104, Bellingham, WA 98225
360-738-8099 - 800-443-4552 - www.whales.com