×
Pedder Bay
At Pedder Bay, you're minutes from some of British Columbia's most beautiful spots, including Matheson Lake Regional Park and countless wilderness trails.
Pedder Bay offers a variety of RV site rentals and camping spots for daily, weekly or monthly rentals.
The marina offers full service facilities including fuel dock, three-lane boat launch ramp, boat rentals and guided fishing charters, gear rental, a tackle shop and lots more!
Located in a sheltered bay in Metchosin, you're minutes from some of the finest fishing grounds on southern Vancouver Island. Enjoy the breath-taking natural beauty of the area against a backdrop of the Cascade Mountain Range and the Race Rocks Marine Reserve.
×
Oak Bay Marine Group
×
Oak Bay Marine Group
×
unknown
×
unknown
×
unknown
×
unknown
×
Oak Bay Marine Group
×
Oak Bay Marine Group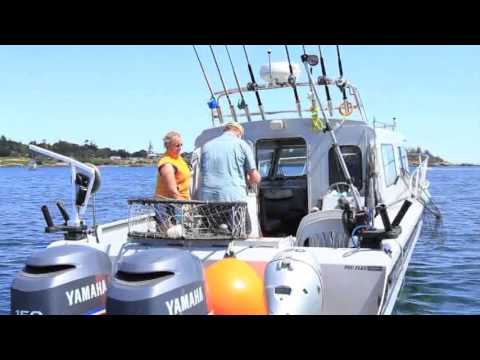 Story by Perry Mack, Photos courtesy Oak Bay Marine Group
It's a paradise flanked by beautiful rainforests, windswept coastlines and beaches, and bordered by numerous provincial parks and hiking trails. Few places on earth are as awe-inspiring as Vancouver Islands' south coast, and for RV'ers who love the ocean and especially fishing, this is the place for the once in a lifetime vacation, or part of an annual vacation migration.
Just 40 minutes south of Victoria, Pedder Bay RV Resort & Marina lies nestled in a sheltered inlet and is designed with boaters in mind. You can bring your own and enjoy all the amenities of an on-site, fully serviced marina, or just park your RV and rent one. RV'ers this year will get to enjoy fishing from the new 17' Hourston boats recently added to the rental fleet. You don't even need to bring your own fishing gear as all the equipment is also available for rent.
'The Seeker' is their new 20' Boston Whaler ready to take you on a professionally guided fishing charter. All you need to do to prepare, is imagine reeling in your trophy as the gear, bait, fuel and lunch is included. It's fantastic way to enjoy a stellar day on the water.
If you're considering a number of different vacation destinations, please keep this in mind. 2014 is expected to be a record year for fishing off Vancouver Island. In fact, according to the Department of Fisheries and Oceans, it could be one of the best fishing seasons in 30 years!
Don't be surprised by the marine wildlife as you cruise and sightsee from your boat. Porpoises, seals and otters swim around you while eagles glide on rising currents of air above you. Pods of whales including Humpback, Gray and Minke can be seen migrating and feeding in the area or perhaps you'll venture out to the newly minted Race Rocks Ecological Reserve to view the hundreds of California and Stellar Sea lions.
The Pedder Bay RV Park is the perfect home away from home for your marine adventures. In addition to the 10 unserviced sites, 78 fully serviced sites offer 30 to 50 amp service, cable, Wi-Fi, water and sanitation.  They range from 46' to 59' with plenty of width for double slides. While all the sites are just steps from the water, numbers 35 to 53 are water view sites - the key is to make your reservations well in advance to get the space you want.
The sites are a generous size, so if you're bringing your own boat, you may have room to keep it on your RV site, in which case you are allowed to launch for free. Alternately, you can reserve one of the 240 berths in the marina at the regular moorage rates.
They've enhanced the on-site coffee shop's menu with a new sandwich selection and non-alcoholic beverages (they serve Starbucks coffee – my personal favourite), but should you be in need of anything, all the amenities are nearby including propane, grocery and liquor stores, even Costco is within 20 minutes.
The staff at Pedder Bay Marina and RV Park are looking forward to being your hosts this year. For more information on your summers best vacation visit www.pedderbay.com or call 1(877) 478-1771.