×
2014 EJS ARB 4x4 Sponsored Trail Ride - Fins & Things
Video of the ARB 4x4 Accessories Red Rock 4-Wheelers sponsored trail run on the "Fins & Things" trail during the 2014 Easter Jeep Safari in Moab, UT. Thanks to all who signed up and joined us on the trail. See you next year!
More about ARB 4x4 Accessories: http://www.arbusa.com
Follow ARB on Facebook: http://www.fb.com/arbusa
Follow ARB on Twitter: https://twitter.com/ARB_USA
Video captured and edited by: http://heavymetalconcepts.com
×
Mayhem to Moab! Jeep TJ Build & Rock Crawl Adventure - Dirt Every Day Ep. 29
Every year in Moab, Utah there is a week of off-roading awesomeness known as the Moab Easter Jeep Safari. On this episode of Dirt Every Day, Fred Williams finally brings home a Jeep TJ he's had his eye on and takes on this last minute build. With only two weeks before his first trail ride in Moab, Fred has to figure out a way to modify his little white Jeep and make it into a tough little rock crawler. Luckily there are a number of easy-to-install parts available for Jeeps. With time ticking away and the red rocks of Utah beckoning, Fred must forgo sleep for coffee in the annual Mayhem to get ready for Moab.
Dirt Every Day appears every fourth Thursday on the Motor Trend channel. http://www.youtube.com/motortrend
Subscribe now to make sure you're in on all the action!
http://www.youtube.com/subscription_c...
Facebook - http://facebook.com/motortrendmag & https://www.facebook.com/DirtEveryDay
Twitter - http://twitter.com/motortrend
Google+ - https://plus.google.com/+motortrend/p...
Website - http://www.motortrend.com & http://www.4wheeloffroad.com/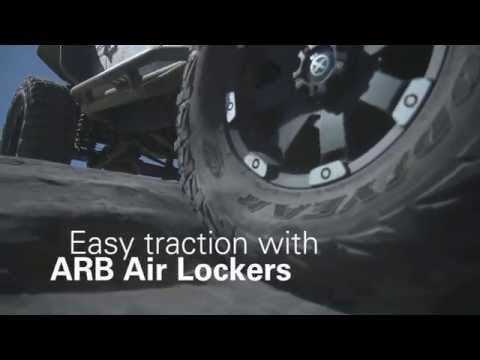 ARB 4x4
ARB 4x4 Accessories had the pleasure of sponsoring a Red Rock 4-Wheelers trail run during Easter Jeep Safari in Moab, UT. We had a great time getting out on the Fins & Things trail with 35 of our newest friends. The weather was perfect and the trail was incredibly scenic.  
The second video in the playlist is from the Youtube show Dirt Every Day and is hosted by Fred Williams, editor of the very popular Petersen's 4Wheel & Off-Road magazine.  
Fred built a Jeep Wrangler TJ in 2 weeks right before Easter Jeep Safari. What was a little stock TJ turned into a fantastic trail machine, complete with ARB Air Lockers and a slew of other fun parts. We joined him for a day on the trail at AREA BFE to put the Jeep and the ARB gear through some difficult obstacles.