×
Jeepin' & Sleepin'
×
Trekken Offroad Trailer
Yusuf Gorgec
A few weeks ago, my good friend, Pat Harrison, borrowed a Trekken Offroad Trailer for review. We tested by taking it to Apex Mountain for 2 days of camping. Then we took it to Sumas Mountain for some hardcore offroad testing. Check it out!
For more information about the trailer, please contact:
Mike Bernard at Trekken Offroad
Phone : 250 - 508 - 1172
E-mail : mbern44@telus.net
×
Photos and video by Yusuf Gorgec
×
Photos and video by Yusuf Gorgec
×
Photos and video by Yusuf Gorgec
×
Photos and video by Yusuf Gorgec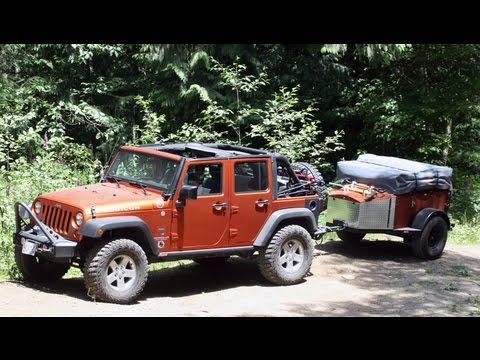 Written by Pat Harrison, Photos and video by Yusuf Gorgec
T'was the night before Apex and all through the house there was plenty of activity as we got ready for a camping weekend at Apex Mountain. We would be testing out a custom made full on off-road tent trailer hand made by Mike Bernard of Trekken Offroad located in Victoria B.C. Mike is a shipwright by trade and his attention to detail in the build of this trailer is incredible and well documented in a thread on the BCJC web-site.
We have taken advantage of the full size Jeep JK and slept in the back as well as tented on outings before, but you really appreciate well appointed " roof-top " style accommodation that gets you up off the ground and out of the path of the creepy crawlers heading for the nightly bug ball. It was without a doubt the best sleep I've had while combining wheeling and camping and it prompted me to look around at some of the options available out there for Jeepin' and Sleepin'.
Roof top tents have come a long way since their inception and are becoming more common every year. Price points start at the $1000 level and go up from there. Rigging them to your roof can be a tricky affair and should be done with safety and function in mind. You don't want to put your knee through your new tent set up and dent your roof nor do you want it turning into a potentially deadly Frisbee at 100 kph on the highway.
The James Baroud editions of roof top tents are solid and easy to deploy and retract. They feature a low profile for excellent aerodynamics, lightweight yet strong construction and solid mounting options. Gas struts and hard top shell design make putting these up and taking them down so easy I could do it in the dark after a few fireside bevy's and a long day of wheeling.
Off road trailers are another option and if you have our friend Mike from Trekken Offroad build one for you then you can expect such amenities as pull out utensil/dish drawers, work surfaces, sink enclosure, on demand hot water nozzle and fold out table. A huge potable water tank is located right over the axle and a nice storage compartment occupies the front of the lightweight composite bodied trailer.
Yusuf Gorgec and I took the trailer out for some trail testing and were pleasantly surprised by how capable it really is. We pulled it over the Coast Mountains from Abbotsford, BC to Apex Mountain near Penticton, BC and back; barely noticing it was even there. The big surprise for me was that my driving style subconsciously changed to accommodate the trailer, which resulted in the best gas mileage I have ever had since owning my 08 Rubicon. I went from a typical 19.2 L/ 100 km to 13.4 L/ 100 km....go figure.
For the more capable fabricators amongst us there are plenty of other options. A friend recently picked up a venerable old military M101 trailer and converted it to a capable roof-top tent trailer hauler with plenty of storage capacity and proven off-road capability. I always appreciate seeing homemade versions being put to use and proudly displayed by capable gearheads with 220-volt outlets in their garage/shop.
Mike Bernard of Trekken Offroad
mbern@telus.net
video at http://m.youtube.com/watch?v=di2p7kUiaP8
Yusuf Gorgec