×
Bubba Rope in Snow
×
Bubba Renegade Rope Test
×
Tim Diebert
×
Tim Diebert
×
Tim Diebert
×
Tim Diebert
×
Tim Diebert
×
Tim Diebert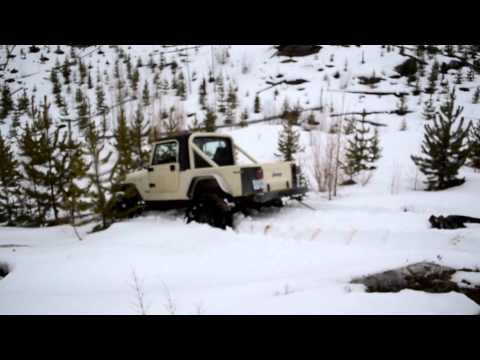 Story and photos by Tim Diebert
Combine deep powder snow, a conventional tug strap, a big block Cruiser on 44's,
and a selection of poor choices. The result was the less than surgical removal of my rear, welded bumper. I welded the old bumper back on, then spent three weeks making v2.0. I also decided to see what was available in a more forgiving and effective recovery strap.
Thinking back a couple of winters, somebody I was wheeling with gave me their strap to tug them out of a snow bank. It was either orange or pink as I recall, and it was an interesting sensation when I felt the 'boing'. It was like using a bungee jump cord for recovery. I remember being impressed and made a note to self - get one of these things. Never happened.
I ran into my buddy, The Bumper Killer, one Friday at a friends shop and he mentioned that he had just purchased the very same recovery strap during an evening of internet, Visa cards, and beer. He got what seemed to be a good price so I was amped to get one of my own. In a bizarre coincidence, the next day I got an email from Perry Mack to see if I would be interested in testing a new Bubba Rope, the Renegade.  Really?
My truck falls right into the weight category for the Renegade. It's rated for 19,000 lbs and the vehicle weight should be about one third of that. My Ranger with all my usual wheeling gear weighs in at 4650 lbs. - more or less. The Bubba Rope people say the Renegade is designed for small trucks and SUV's.
I needed another truck in a similar weight class to 'recover'. My buddy Cory bought his mid-eighties CJ8 Scrambler a few months ago to build up. He hadn't wheeled it yet, or even driven it down the road, but I knew he was close and gave him a call.
I picked up the Renegade and was immediately impressed. It is 3/4" in diameter, 20 feet long and comes in a strong nylon bag with a mesh cover and drawstring. The rope is impressive in its construction quality.  The splices to form the loops have been seized and it looks indestructible. The entire loop is dipped in a heavy polymer coating to keep the ends from wearing out. The entire rope is also dipped in a polymer base that gives the rope a protective covering, also impregnating the nylon fibers, and leaving the line strong, yet flexible.  It has a good quality Velcro strap attached right to the loop. This is the real deal, no offshore crap here.
We drove up to a great wheeling area to look for somewhere to get stuck.  Cory drove down an incline into about 18-20" of snow that he could not back out of. We hooked up and I first tried just bumping the Scrambler out dead. After a couple of tentative tugs, it was immediately apparent that with a little more jam, I could easily pop the truck out of its tires holes, up the rock and out. With Cory behind the wheel and motoring at the same time, it was a cakewalk. The main thing we both noticed was how little shock there was in our respective trucks! Not only does the kinetic 'boing' effect make the actual pull easier, it is less brutal on the drivers. I tend to snow wheel with big snow trucks, of which I am always the smallest one - smallest tires, smallest motor etc. So consequently, I am the benefactor of frequent tugs. Everyone I wheel with normally, including myself just use the 'usual' style of recovery strap. Even though they 'give' a little, they are brutal in effect. I am a convert, and if you try one of these ropes, you will want one too. 
Once we were done taking some pictures and messing around, Cory decided to get home. I decided to enjoy the day and go wheeling. About an hour later I was crossing over to another trail using the old rail grade and came upon a common sight, a 'civilian' stuck and needing a hand. Two people on a quad were helping the owner of a four door stock Super Duty shovel his way out of some deep soft snow. As often happens, he just 'fell off' the packed snow track. Imagine, a chance to use my new Bubba. What fun.
Even though his truck was enormous compared to mine, he popped right out, no worries. If you're looking to get your own Renegade from Bubba Rope, visit www.bubbarope.com.