×
BFG KO2 Test Drive in Jasper
Stumps, rocks, dirt roads and mud. Our afternoon in the Rockies above Lake Louise demonstrated the BFG All terrain KO2  could handle the kind of off-highway abuse you'll find on your favourite out of the way fishing, camping or God forbid, work-site, making it a solid choice for the ranch, farm, oil field and construction site.
×
KO2 Takes On Gravity
BF Goodrich says the new All-Terrain T/A KO2 is their toughest all-terrain tire ever. Tough enough to take on nearly any challenge on Playground Earth. (Or even above it.)
×
BFGoodrich All-Terrain T/A KO2 – Technical Features
BFGoodrich Tires takes you deep into the technology that makes the new All-Terrain T/A KO2 our toughest all-terrain tire ever.
×
Perry Mack
×
Perry Mack
×
Perry Mack
×
Perry Mack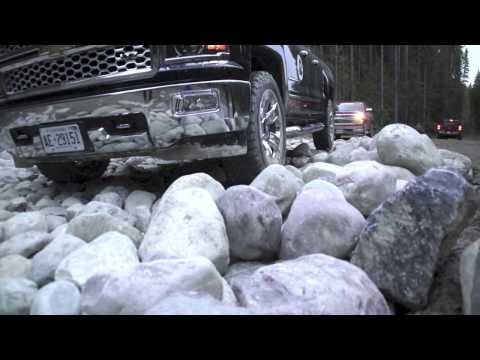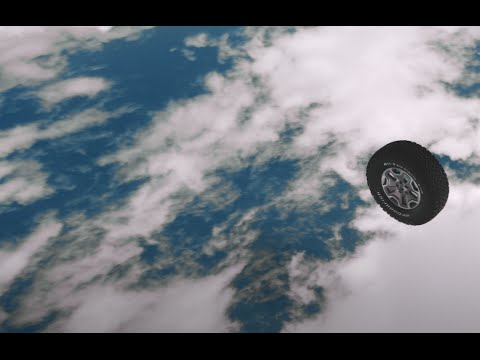 Story, photos and video by Perry Mack
October in Jasper leaves you in awe of the mountains, appreciative of the sunshine and yet constantly aware that winter is coming. It might be the almost-freezing morning air, but more likely it's the thousand-year-old glacial ice peering down from the mountaintops echoing with every cold breath, 'I'm coming'.
But now I have to focus on the road as I head to the private staging area in a 2014 Silverado, foolishly donated by Chevy to help us test the new BFG KO2 All Terrain tire. The BFGoodrich® (BFG) guys are saying taking it easy with the trucks, but the Chevy guys are telling us to bring them back dirty.
The KO2 is designed to fit between the mostly on-road LT tire and the serious off-road mud terrain tire. Its goal is to give you a confident off-road experience while preserving its road manners with good control and a relatively quiet ride.
Our test tires were 55 series tires on 20" rims. A size that handicaps a tire for off-road performance but it is a tire size that many will buy for trucks and SUV's.
BFG started the two day event by claiming the new tire was not only better than the old but also had the three peak rating. It was tougher, longer lasting and had better traction. I'll go into the 'how' later but right now I'm driving.
We started at the 'obstacle course' – in Canada we call it a country road on the way to the lake. The tire performed admirably through inclines, declines, side slopes, around roots, rocks, slick dirt and mud. Hub deep in the mud at a slow crawl and there was no sign of a loss of traction. No sign at all. Give it a checkmark for traction.
Thirty feet on the dirt road and the mud was completely clear of the tread, ready for more action – a testament to the treads ability to clear the goo.
We then drove over log obstacles, watching the tire deform over branch stubs without suffering any visible damage, which was then followed up by a river rock obstacle with the same results.
Our afternoon in the Rockies above Lake Louise demonstrated the tire could handle the kind of off-highway abuse you'll find on your favourite out of the way fishing, camping or God forbid, work-site, making it a solid choice for the ranch, farm, oil field and construction site.
Great, but what about more serious off-road? If you want to know how long something lasts and performs, give to a professional who will drive it like they stole it. Which is what BFG did when they introduced the KO2 in Ensenada, putting media and off-road racers behind the wheel, running the tires on a mix of buggies, rock crawlers and desert racers. By all accounts I've read, the tire performed flawlessly.
The only tests left are snow, and some unsupervised off-road abuse. For that you'll have to wait until 4WD gets our dirty little rims on a set. Watch out for that.
According to BFG, this is how they've achieved the improvements we're now driving on;
Race-proven CoreGardTM technology provides 20% increased toughness
Tougher sidewall rubber: Split and bruise resistant sidewall rubber, derived from BFGoodrich® 's race-proven Baja T/A® KR2 tire.
Thicker, extended shoulder rubber: Increased rubber thickness, extending down the sidewall to protect more of the critical sidewall 
failure zone.
Advanced deflection design: Computer-predicted object path design deflects protruding objects from snagging and splitting the sidewall. 

2X the treadlife on gravel; 15% longer treadlife on asphalt to extend your adventure
Specially formulated tread rubber: Optimally blended to reduce chip and tear for superior gravel road endurance.
Advanced tire footprint shape: Results in more evenly distributed stress for longer more uniform wear.
Stone ejectors: Prevent stone retention and provide extra tread cleanout protection against stone drilling.
Interlocking tread design: Increases tread block stability for more even wear over the long haul.
10% more mud traction and 19% improved snow traction to confidently get where you want to go, regardless of road or weather conditions.
Side biter lugs: Protruding sidewall rubber blocks provide increased mud, snow and rock traction, especially in aired-down driving situations.
Mud-phobic bars: Raised bars in the shoulder tread area help release compacted mud for enhanced traction in muddy and soft soil conditions.
Serrated shoulder design: Staggered shoulder blocks provide greater manœuverability in soft soil and deep snow conditions.
Locking 3-D Sipes: 3-D active sipe technology provides more biting edges for significantly increased snow traction.
Meets Tire and Rubber Association of Canada (TRAC) requirements for severe snow traction.
Currently the KO2 is only offered in 12 sizes with more continually being offered in 2015 until a full compliment of 56 sizes are available. More sizes are currently available in Canada than in the US so make sure you check with your Canadian dealer to get the size that best suits your needs.
According to the tests so far, the tire is great for truck owners who need a super tough tire for construction, farm, ranch or oil field work, and/or the guy (or gal) who needs a decent daily driver but is going to play hard on the weekends. With the addition of the M+S designation, qualifying it for many winter road applications, this is one of the best A/T tires available.